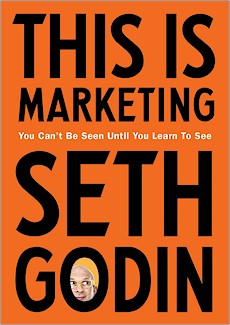 Auteur : Seth Godin (288 pages)
ISBN (papier) : 978-0-525-54083-0
Site de l'éditeur (formats papier, numérique et audio)

Écoutez la version audio de ce billet

Tous, nous sommes des marketeurs! Des agents de commercialisation de nos propres idées. Dès notre naissance et ce, jusqu'à notre mort, nous devrons exprimer nos opinions, nos projets, nos idées et nos désirs de manière à susciter le changement ou l'action désirée de ceux à qui nous nous adressons. Avant la négociation, c'est l'étape qui saura générer l'intérêt initial qui conduira (ou non) à une prise de position : changement, adoption, permission, refus, etc.

Malheureusement, le marketing a mauvaise presse depuis plusieurs années, et pour cause. Avec la présence croissante des médias numériques dans nos vie, notre attention est devenue si sollicitée que le bruit ne s'est qu'intensifié.
C'est le constat que fait le marketeur et communicateur Seth Godin dans cet appel au calme et à la lucidité.
Je vous avouerai que ce livre fut une incroyable validation pour la férue de marketing en moi. Depuis tant d'année, je ressentais un intense malaise face aux nouvelles méthodes de marketing et je n'arrivais tout simplement pas à y adhérer ou à les proposer à mes clients. Je comprends maintenant pourquoi… ce n'était pas du (bon) marketing! J'ai même retrouvé dans cette lecture quantité des pensées que j'avais moi-même écrites au fil des ans.
Vous voulez comprendre pourquoi vous n'arrivez pas à créer le changement ou à générer l'adhésion de votre clientèle cible? Ce livre vous expliquera pourquoi et vous aidera à comprendre les bonnes approches pour y arriver… pour autant que vous vouliez y mettre l'effort.
Ce livre devrait être une lecture obligatoire, non seulement pour tous les entrepreneurs, mais pour tous ceux dont l'objectif est de diffuser quelque message que ce soit dans le but de créer un changement. Le BON marketing ça s'apprend!
Je ne vous prêterai pas ma copie papier, je dois y avoir marqué d'étoiles chaque 2 ou 3 pages!
Pas le temps de lire le livre? Visionnez la vidéo d'entrevue qui vous convaincra.
---
En jaquette du livre :
People like us do things like this – This is the chance you've been waiting for. The opportunity to bring work you care about to people eager to engage with it, pay you for it, and talk about it.
I believe that the only way to make a difference is to truly see and understand the people you seek to influence. Once they're fully engaged, they will be happy to help you spread the word.
This book will change the questions you ask, the things you notice, and most of all, the work you're able to do. It will help you make things better by making better things.
Your work matters. Make a ruckus.
Seth
---
Tiré du site de l'éditeur :
A game-changing approach to marketing, sales, and advertising. 
Seth Godin has taught and inspired millions of entrepreneurs, marketers, leaders, and fans from all walks of life, via his blog, online courses, lectures, and bestselling books. He is the inventor of countless ideas that have made their way into mainstream business language, from Permission Marketing to Purple Cow  to Tribes  to The Dip.
Now, for the first time, Godin offers the core of his marketing wisdom in one compact, accessible, timeless package. This is Marketing shows you how to do work you're proud of, whether you're a tech startup founder, a small business owner, or part of a large corporation.
Great marketers don't use consumers to solve their company's problem; they use marketing to solve other people's problems. Their tactics rely on empathy, connection, and emotional labor instead of attention-stealing ads and spammy email funnels.
No matter what your product or service, this book will help you reframe how it's presented to the world, in order to meaningfully connect with people who want it. Seth employs his signature blend of insight, observation, and memorable examples to teach you:
How to build trust and permission with your target market.
The art of positioning–deciding not only who it's for, but who it's not for.
Why the best way to achieve your goals is to help others become who they want to be.
Why the old approaches to advertising and branding no longer work.
The surprising role of tension in any decision to buy (or not).
How marketing is at its core about the stories we tell ourselves about our social status.
You can do work that matters for people who care. This book shows you the way.